The Slugterra game Slug It Out has debuted a new slug that is a little hot called the Firenzar! With fins like a fish, this little guy looks as if he can swim through fire. He has adorable fire eyebrows that accent his red body and yellow markings. He may look cute, fut this little guy can spew fire around you causing damage over a short period of time…basically you are burning until the attack is finally over. Better get the marshmallows ready or have a Boon Doc on hand. Firenzar hasn't appeared in the show yet, but that could change since it is a slug we can collect in the game.
For those who want this little guy in the game, play the slug seeker mode in Dojang Grotto and you will find it.
Not a lot is known about the cute little guy. We know he can be found in the Dojang Grotto and that he is Rare. Check out the specs below for more details on the Firenzar and it's attacks.
~~~~~~~~~~~~~~~~~~~~~~~~~~~~~~~~~~~~






~~~~~~~~~~~~~~~~~~~~~~~~~~~~~~~~~~~~
Firenzar specs
Firenzar: Species #UNKNOWN
A Famous Slug of this species: UNKNOWN
Preferred Habitat: Dojang Grotto
Power Type: Fire
Element: Fire
Rarity: Rare
Protoform Abilities: UNKNOWN, but there is speculation that it can release a small burst of ice similar to the Frostcrawler
Attacks: UNKNOWN
Dragon Breath (unofficial name) – Surrounds an opponent with a ring of fire that burns them over time. Wiki
Fusion Attack: UNKNOWN
Firenzar transformation at 100 mph: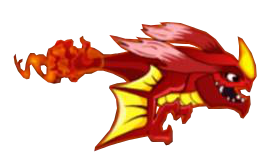 To download this coloring page click the image below and save the PDF.
This coloring page is free to download, print and create. I do however, accept donations. Any amount helps keep the hobby alive and allows me to continue to bring my readers awesome printables and coloring pages.
If you donate $5 USD I will email you 5 printable SlugTerra Info cards! You must send me an email with how much you donated and What five slugs you wish to get from the list posted here: Slugterra Info Cards! Be sure to also check out my Slugterra Card game. Collect slugs and battle opponents in epic slug battles!
To download this free coloring page click the image below and save the PDF to your computer.

If you print and color this Slug, take a Picture or scan it. I would love to share your art on my facebook page!
If you have a specific Slug you would like to see made into a coloring page, let me know in the comments below, it may be the next one I create 😀
Get my other Slugterra Coloring pages by clicking here
You can find Burpy (Infurnus) and the others!